The following industry leaders are proud new members of SATA-IO:
| | |
| --- | --- |
| • | Delkin |
| | |
| | |
| • | DensBits Technologies |
| | |
| | |
| • | Dialog Semiconductor |
| | |
| | |
| • | INISTOR |
| | |
| | |
| • | Innopower Technology |
| | |
| | |
| • | IDT |
| | |
| | |
| • | Jacobs Parts Inc. |
| | |
| | |
| • | Miltope Corporation |
| | |
| | |
| • | SAMTEC Inc. |
In this Issue:
Plugfest/Interop Workshop and Developers Interop Conference
SATA-IO Launches USM Specification at CES
SATA Revision 3.1 Spec Coming Soon
Share Your SATA Related Videos
SATA-IO Marketing Workgroup Can Help Market Your Products
---
Next Plugfest & Interop Workshop Scheduled for May 16-19 Will Feature Developers Conference Training Sessions
Sponsored by Synopsys

You're invited to join us at the upcoming SATA-IO Plugfest & Interop Workshop. This year's event will also feature the SATA-IO Developers and Interop Conference training sessions, offering a chance for members to gain insight into the SATA-IO interoperability process. Come hear a key-note address by the SATA-IO President, Mladen Luksic of Western Digital, featuring an exciting announcement about the future of SATA-IO!
The Plugfest is an important opportunity for companies designing SATA products to quickly and easily assess the health of their products through interoperability testing. The Interop Workshop acts as a mechanism for verifying both compliance with the SATA specification and interoperability among products in the marketplace.
Registration for the Plugfest and Interop Workshop is open. Please contact SATA-IO with any questions.
---
SATA-IO Launches USM Specification at CES
In early January, SATA-IO announced its new Universal Storage Module™ (USM) specification for portable storage applications at a press event during the Consumer Electronics Show. The USM specification, which is expected to be completed later this year, enables developers to incorporate slots into televisions, game consoles, set-top boxes, computers, docking stations and other consumer electronic devices that will accept powered, cable-free storage modules with integrated powered SATA interfaces for expanding storage capacity. Devices based on the USM specification extend the speed and reliability of volume storage I/O to the consumer electronics market and eliminates the need for a separate cable or power supply.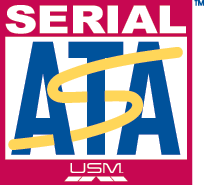 The SATA USM specification is the first standard specification to define slots to accept a complete, powered external storage device into consumer electronic devices. Modules, slots and interfaces designed according to the SATA USM specification will enable consumers to instantly access their music, movies, photos and other content from a variety of consumer electronics products, and to seamlessly transfer content between devices without the aid of additional power cables. The integrated SATA interface supports transfer speeds up to 6Gb/s.
SATA-IO partnered with member company Seagate Technology to demonstrate USM product at CES Unveiled, the official press event for CES. Representatives from SATA-IO and Seagate chatted with press and analysts about the new specification for a solid three hours. Click here to see coverage from the event.
SATA-IO would like to extend a special thank you to Seagate, who generously donated product demonstrations, booth support and funding for the event.
Visit this page for additional information on USM, and be on the look-out for the completed spec later this year.
---
SATA Revision 3.1 Spec Coming Soon
The SATA Revision 3.1 specification is expected to be released later this year. Revision 3.1 compliments the current SATA 6Gb/s data rate through a series of enhancements for added functionality and convenience. These enhancements range from new power management requirements to features that help maximize device efficiency. Implementing the new specification will enable device manufacturers to take full advantage of SATA 6Gb/s technology.
Key features of the new specification include:
mSATA™ - SATA for mobile computing devices, now with enhanced auto detection to provide increased interoperability by eliminating the need for a dedicated mSATA connector
Zero-Power ODD - eliminates the power consumption of an idle SATA ODD, resulting in increased energy savings
Required Link Power Management - drives energy efficient power management across all SATA devices, reducing overall system power demand
Queued Trim Command - allows SATA SSDs to execute Trim without impacting normal operation, improving SSD performance
Hardware Control Features - enables host identification of device capabilities, allowing hosts to make effective use of SATA devices
---
Share Your SATA Related Videos
The SATA-IO Marketing Workgroup is working on adding more multimedia content to the SATA-IO Web site. If you have an interesting video featuring SATA technology or certified products, please let us know! We're building a collection of videos highlighting all aspects of SATA technology. Please send any submissions to press@sata-io.org for consideration.

---
SATA-IO Marketing Workgroup is Here to Help You Market Your Products
In addition to getting the word out about the many SATA-IO initiatives, the Marketing Workgroup is looking for ways to make your jobs easier. A couple of the resources that we've made available to members are the logo program, two product databases, and the Chinese versions of our website.
Logo Program: In August 2008, SATA-IO launched its certified logo program. The logo program enables devices that pass SATA-IO interoperability testing to bear the SATA certified logos, indicating adherence to the SATA specifications. The addition of the certified logo provides another level of awareness of SATA technology with the industry and enables manufacturers to quickly and easily identify SATA certified products. The logo denotes that your devices have undergone extensive testing, thereby assuring a high level of interoperability with other certified devices.
SATA-IO encourages its members to test their products and participate in the certified logo program. Visit the website to learn more about SATA-IO interop testing and find out how your company can take advantage of the logo program.
Product Databases: SATA also helps you market your product via two different databases on the website. The SATA Everywhere List is publicly available and is a complete searchable list of SATA industry products. The Integrators List includes information about the components that have passed the SATA Interoperability Testing.
Chinese Websites: Due to increasing interest in SATA from the Asia-Pacific region, we have translated portions of the SATA-IO website into two difference Chinese dialects. You can access the translated versions of the website via the two links at the top of the SATA-IO website that say "Click Here" in Chinese characters.
---
Want to keep in touch with other members in the SATA-IO community? Stay informed about SATA-IO news and events by joining the SATA-IO LinkedIn Group.