The following industry leaders are proud new members of SATA-IO:
In this Issue:
Announcing mSATA
SATA-IO Certified Logo Program
Interoperability Program UTD 1.4 Released
IDF 2009 Recap
---
SATA-IO Announces mSATA Specification
On September 21, 2009, SATA-IO announced that it had nearly completed its specification for a mini-SATA (mSATA) interface connector. Since then, the definition for mSATA has been published and is available in the Members Only area of the SATA-IO Web site. This new low-profile connector will enable more effective SATA integration in small form factor applications.
mSATA leverages the speed and reliability of the popular SATA interface to provide a high-performance, cost-effective storage solution for smaller devices like notebooks and netbooks. The specification maps SATA signals onto an existing small form factor connector, enabling more compact integration in a wide variety of applications for both hard disk (HDD) and solid state drives (SSD). The mSATA connector allows companies to increase the storage offerings of their products without compromising valuable space.
mSATA is particularly beneficial for manufacturers planning to incorporate small form factor SSDs (approximately the size of a business card) in portable PC devices, where space utilization and cost minimization are key concerns.
SATA-IO received strong industry backing from several member companies for this announcement who provided supporting quotes that were included in the press release. These companies include Samsung, SanDisk and Toshiba.
---
SATA-IO Certified Logo Program Gains Traction During First Year
In August 2008, SATA-IO launched its certified logo program. The logo program enables devices that pass SATA-IO interoperability testing to bear the SATA certified logos, indicating adherence to the SATA specification. Over the past year, this program has made tremendous strides as more and more members have begun to participate.
To date, SATA-IO has certified more than 340 products from over 50 member companies. All of these products achieved SATA-IO Integrators List status and are able to use the SATA certified logos on their sales collateral, product packaging and other marketing materials. The addition of the certified logo to this process provides another level of awareness of SATA technology within the industry and enables manufacturers to quickly and easily identify SATA certified products.
SATA technology has continued to build industry momentum since its introduction in 2001. With more than 1.1 billion SATA hard drives shipped from 2001 through 2008, SATA captured more than 98% of internal hard disk drive shipments, demonstrating that SATA technology is now used in the vast majority of desktop and mobile PCs. This increased presence in the storage market makes the logo program even more important to SATA-IO, as well as to its members.
SATA-IO encourages its members to test their products and participate in the certified logo program. Click here to learn more about SATA-IO interoperability testing and find out how your company can take advantage of the logo program.
---
1.4 Unified Test Document Released
The SATA-IO Logo Workgroup recently finished development on the SATA Interoperability Program Revision 1.4 Unified Test Document (UTD). This updated testing procedure introduces testing of Gen3 (6Gb/s) products as well as minor updates to Digital tests within the Interoperability Program. If you are interested in having your 6Gb/s products tested, you can have the testing completed by one of SATA-IO's approved independent test labs. Check out the "Test Revisions Supported" column to find which labs support 1.4 testing.
To download the 1.4 UTD, please visit the 1.4 Interoperability Documentation Web page.
---
SATA-IO Exhibits at Fall Intel Developer Forum
SATA-IO attended this year's Fall IDF in San Francisco, Calif. from September 22-24, 2009, where members demonstrated SATA 6Gb/s products, as well as new mSATA products. SATA-IO Marketing Workgroup members manned the booth, speaking with attendees to promote the organizations ongoing contributions to the industry.
Several SATA-IO member companies showcased and demoed products at the SATA-IO booth. Marvell, AMD and Seagate provided live product demos. Marvell demonstrated its SATA 6Gb/s controller technology, utilizing a SATA 6Gb/s hard disk drive provided by Seagate. AMD and Seagate also demoed a tower system running Windows Vista with one SATA 3Gb/s drive and one SATA 6Gb/s drive. Additionally, Samsung, Toshiba, and SanDisk displayed some of their emerging products, including new mSATA drives. Lastly, AMD, Hitachi, Seagate, Silicon Image, and Toshiba showcased some of their SATA certified products.
Below is an image from AMD's technology demo running
a Seagate 6Gb/s drive.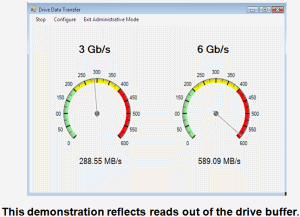 IDF also provided an opportunity for SATA-IO spokespeople to meet with industry editors and analysts to update them on the latest technology developments. Nearly a dozen briefings were held on-site, resulting in strong coverage including articles in ComputerWorld, Gizmodo, and PC Magazine.
This year's IDF was a great opportunity for SATA-IO to continue momentum generated by the SATA Revision 3.0 Spec announcement in late May 2009, as well as announce the completion of the mSATA specification. IDF proved to be a valuable industry event where SATA-IO was able to make its voice heard.
---
Want to keep in touch with other members in the SATA-IO community? Stay informed about SATA-IO news and events by joining the SATA-IO LinkedIn Group.